Index and Publications
GGSC-African Index Report(May 2020)
In May 2020, timber trade companies from ATIBT member states(Cameroon/Congo/Democratic Republic of Congo/Gabon/ Ivoiry Coast)were still greatly affected by Covid-19. In term of GGSC-African sub-index, the Employee for May index registered 50.0%, an increase of 50 percentage points from the previous month. The New orders index registered 0%, a decrease of 50.0 percentage points from the previous month. The other index all registered 0. See Figure 1 for more details.
Table 1 GGSC-AfricanIndex for February 2020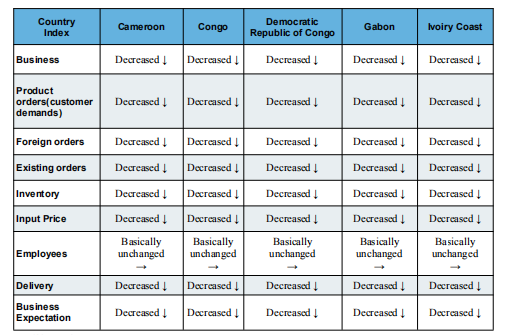 *Note: 1.Decreased /Increase/Basically unchangedis compared on on a month-on-month basis.
2.GGSC-African Index is on trial operation stage, the index data will not be released temporarily. The information of each country is released for reference.
More information
About Cameroon:
1. The Cameroonian government has recently relaxed restrictive measures to combat the epidemic, notably reopening bars after 6 p.m. and lifting restrictions on the number of passengers on public transport, this epidemiologist points to a certain negligence on the part of the population.
2. The wood industry activities is recovering. The company PALLISCO-CIFM (Mindourou and Douala, Cameroon), employs 500 people.
About CONGO:
1. For some companies located in the South of Congo, logging activities (especially production) have resumed normally and the rolling of transport trucks is proceeding without limitation. Most of the companies in the North continue to evacuate their products through Cameroon.
2.The port of Pointe-Noire ensures the fluidity of the entries or exits of ships and the loading or unloading of containers.Therefore, the risk of interruption in log exports is limited. However, most of the sawmills are still closed.
About Democratic Republic of Congo:
1.Logging companies are not among the priority services. Exports have been suspended.
2.According to a comment from a buyer, they are loading on daily basis. He highlighted that"Due to the huge volumes of illegal Wengué, the Wengué price is now lower than Tali. That succesed to crash the most stable timber market we still had".
About Gabon:
1. In spite of the Covid-19 pandemic in the country, the Minister in charge of Forestry attended, on May 19th at the Port of Owendo, the largest timber export shipment in Gabon's history: 26,000 m³ to China.
2.In response to the Gabonese government's call for solidarity, timber industry companies are ensuring the adoption of barrier measures among their respective employees. Each is respectively in charge of the forest sites, the life bases, as well as supporting the local administrations and NGOs that have submitted specific problems related to the COVID crisis.
About IVOIRY COAST:
1.The ban on the exit and entry of persons and vehicles hinders the supply of industrial units located in Abidjanand the shipment of finished products from companies in the interior whose port of embarkation is Abidjan. However, logging trucks can now circulate without prior authorization to guarantee supply and embarkation.