Recently, the famous American hardwood magazine Global Hardwood Review summarized the performance of the American hardwood industry in 2019. 2019 is a difficult year for the industry. Affected by the US-China trade war and the global economic downturn, the global sales of American hardwood declined, prices fell, leading to closure of some U.S. hardwood factories and lower production. This paper synthesizes the articles of the journal, gives a brief introduction of the American hardwood industry in 2019, and observes the status of related industries in China from this perspective.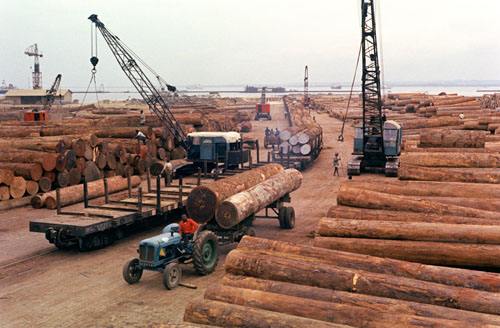 In October 2019, exports of U.S. hardwood sawn timber increased by 13%, but still dropped by 22% by far this year. Except for soft maple, all sawn timber exports increased in October, and all shipments of sawn timber and logs to all regions also increased. Exports to China increased slightly in October, but remained below 118,000 cubic meters (50 million board feet) for six consecutive months. In contrast, shipments to Canada in October were the strongest in five years. As the second-largest and third-largest export markets this year, sawn timber exports to Canada and Vietnam differ by only one container. Since spring, exports of hard maple, walnut, and pecan sawn timber have significantly increased, while exports of cherry sawn timber have declined dramatically.
Exporters noticed an increase in inquiry from China in December and some new orders have been placed. Demand from Vietnam continued to remain strong. In comparison, demand in Europe declined slightly in December, as same as the Middle East. However, insiders say that demand in Latin America is still stable.
All in all, 2019 is a difficult year for American hardwood producers. Due to the ongoing trade dispute with China, a large amount of sawn timber has been overstocked, alternative domestic and export markets shall be identified urgently. The production of graded sawn timber in the United States has declined accordingly, but it is unlikely to reach 735,000 cubic meters (310 million board feet), which is exactly equal to the reduction of shipments to China by the end of October 2019 compared with the same period in 2018. In fact, in the first half of the year, the impetus for US producers to reduce production was not really strengthened. Despite the decline in exports, trade agreements are expected to be reached, and the prices of many key commodities will remain relatively stable by the end of spring. President Trump stated that he signed a Phase 1 agreement with China on January 15. Since the details of the agreement have not been announced, we still do not know to what extent the tariff will be reduced as part of it, or it will be lowered later.
Until we understand these details, it is difficult to accurately predict how the market will react. However, we insist that two things will happen after the agreement is reached. Firstly, China will purchase more sawn timber. China's procurement will not immediately rebound to the level in 2017 and early 2018. In fact, it may never rebound to that level, because during the trade war China has developed other purchasing relationships, but at least shipments to China will pick up slightly, though tariffs are not immediately reduced.
Secondly, the price of American hardwood sawn timber will rise. This seems inevitable, even if China-US trade agreement is not reached, among other things, the relationship between the extent and duration of this market's plunge relative to the past wood industry decline must be considered. No matter how much extra timber products China buys in 2020, it will be combined with additional demand from other global markets, all of which will suddenly increase the pressure on U.S. production. In recent months, the production has been reduced sharply, due to market conditions, labor shortages, cost of timber and log, and the procurement problems.
Neither prediction is necessarily intuitive. The growth rate of the Chinese economy is the lowest in nearly 30 years (Financial Times). Industry insiders have informed us that changes in China's construction regulations are preventing additional consumption of American hardwood. To curb the continued construction of "ghost towers," Chinese regulations now require contractors to renovate each housing unit instead of just building an empty shell. Thus, they will build it with the cheapest materials they can find. However, monthly shipments to China were stable in the second half of last year, when the tariff rate was raised to 25%. As tariffs decrease, shipments will rise. It will not be an remarkable rebound, even if it quickly returns to zero-tariff trade, but China should purchase more.
There is no reason for a significant increase in global market demand this year. According to the International Monetary Fund (IMF), the average gross domestic product (GDP) growth rate of Western European countries will only be 1.4% in 2020; the growth rate of Canada will be 1.8% and the growth rate in Mexico will only return to 1.4% (however The latter two countries may change due to the new USMCA Agreement. There will be more opportunities to export to North Africa and South / Southeast Asian countries, based on their strong economic growth expectations. Historically, these countries have had relatively little demand. Even with the decline in exports to China in 2019, all US hardwood shipments to its largest markets: China, Canada, Vietnam and Mexico accounted for 80% of its shipments.
However, the confidence in the global market will be strengthened by the conclusion of the US-China trade agreement, which will increase the demand of many countries. In addition, during the period when the trade war is likely to continue to expand, shipments to these countries have already increased.
Finally, even though domestic and international demand will remain stable in 2020, the possibility of price increases still exists. Sawn timber prices have fallen below the profitability threshold of many sawmills, and the prices of some products are at their lowest in 20 years. If demand remains flat, more sawmills will be closed, resulting further fall in both production and supply, thus the prices will rise. Now we are seeing the decline in sawn timber prices of many tree species and grades have slowed or stabilized, with the exception of ordinary grade 1 or above ash and standard grade Middle Tennessee Lumber. On the other hand, if demand rises, it will exceed limited production levels, supply will be tight, and sawn timber prices will rise. Coupled with another fact, since the pricing index of kiln dried products has been as low as today for 7 years, the price increase seems to be a relatively safe bet.
That is to say, we believe that both prices and demands will be improved in early 2020, and this improvement may last for several years, which is no different from the market expansion in the past three years, but this expansion is followed by China's retreat in mid-2018. The decline in prices at the end of 2019 slowed down, including sawn timber such as red oak, as the hardest hit. It indicates that production has finally declined to match the reduced level of demand. Although we don't know what the pace of recovery will be, or when it will be the exact time it starts, it seems obvious that we have finally reached or are very close to the bottom of the price.